New Loan Product: Balance Transfer Loan (BTL)
This is to inform all members of UP Provident Fund that they may now avail of our brand-new loan product called the Balance Transfer Loan (BTL)!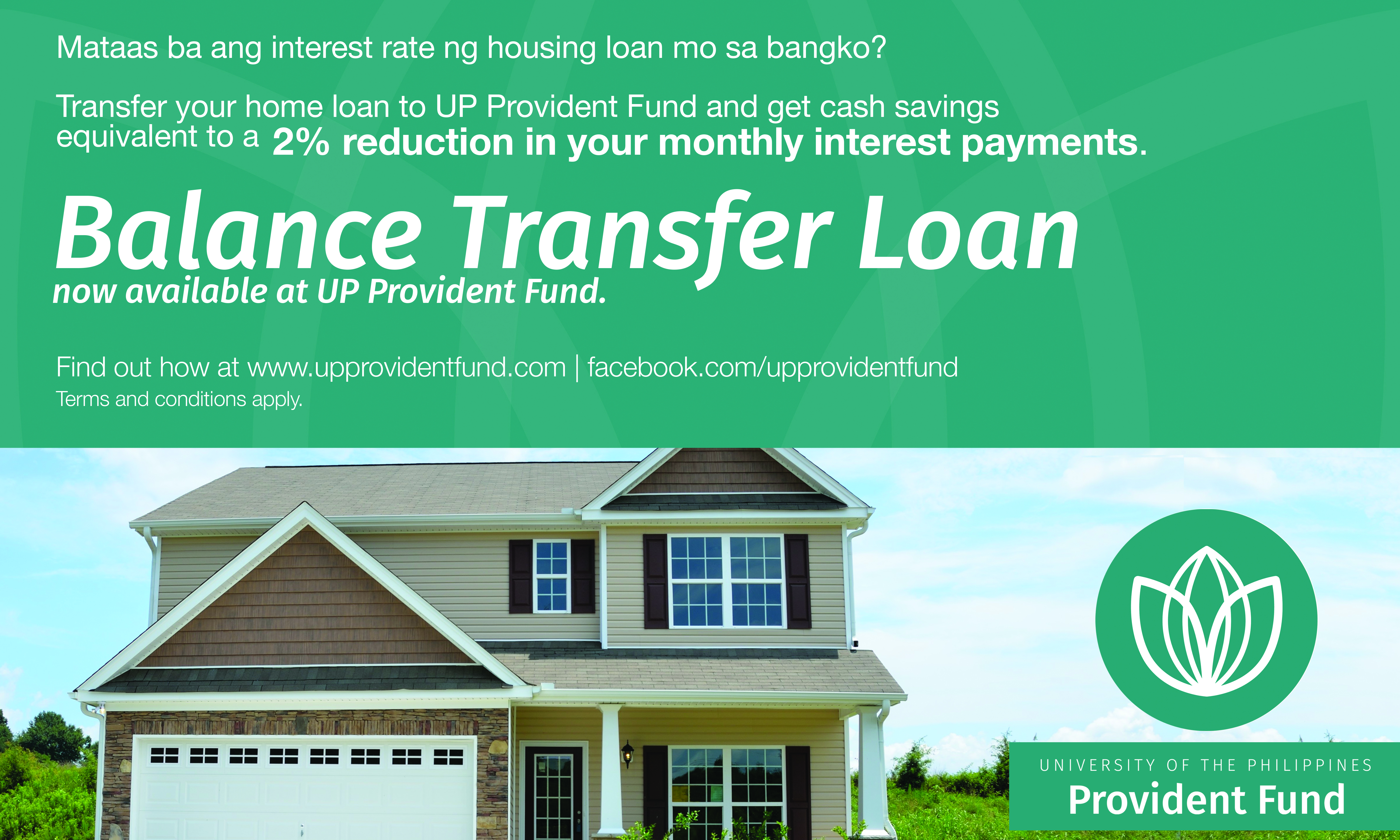 The BTL is a loan product which allows members to transfer to UP Provident Fund the balance or remaining principal of an existing loan with a bank or lending institution.
Here are highlights of the BTL, but if you want the complete details, please download here the Balance Transfer Loan (BTL) Frequently Asked Questions guide.
Why should I avail of BTL?
When you transfer your existing loan to UP Provident Fund Inc. (UPPFI), you will be able to reduce your monthly amortization which translates to cash savings for you every month. Here's an example of cash savings from BTL.
What is the interest rate?
There is no fixed BTL interest rate. It is charged on a case-by-case basis, using the formula:
BTL Interest Rate = Annual interest rate of the loan to be transferred minus two (2) percentage points
Example: If the loan to be transferred charges 8% interest, then the BTL interest rate becomes 6% once transferred to UP Provident Fund. With this lower rate, you are assured of cash savings since your monthly amortization will surely be lower than your current monthly amortization.
What types of loans are eligible for BTL?
The following loans issued by "pre-approved institutions" below are eligible for the BTL:
Housing Loan
Car Loan
Personal Loan
Business or SME Loan
Any GSIS Loan
Any Pag-Ibig Loan
Which entities are considered "pre-approved institutions"?
The following banks and institutions which issued the eligible loans above are accepted for the BTL:
GSIS
Pag-Ibig
Top 20 Universal and Commercial Banks as recognized and categorized by the Bangko Sentral ng Pilipinas:
BDO Unibank (BDO)
Metropolitan Bank and Trust Company (Metrobank)
Bank of the Philippine Islands (BPI)
Land Bank of the Philippines (Land Bank)
Philippine National Bank (PNB)
Security Bank Corporation (SECB)
China Banking Corporation (China Bank)
Development Bank of the Philippines (DBP)
Union Bank of the Philippines (UBP)
Rizal Commercial Banking Corporation (RCBC)
United Coconut Planters Bank (UCPB)
East West Banking Corporation (East West Bank)
Citibank Philippines (Citibank)
Asia United Bank Corporation (AUB)
The Hongkong and Shanghai Banking Corporation (HSBC)
Philippine Trust Company (PhilTrust)
Bank of Commerce (BOC)
Maybank Philippines, Inc. (Maybank)
Robinsons Bank Corporation (Robinsons Bank)
Philippine Bank of Communications (PBCom)
Note: Loans issued by other banks or institutions not mentioned in the list may be approved subject to evaluation by the BTL Approval Committee (AC). However, loans issued by another person, a credit cooperative, or a credit card company are not allowed and are automatically disapproved.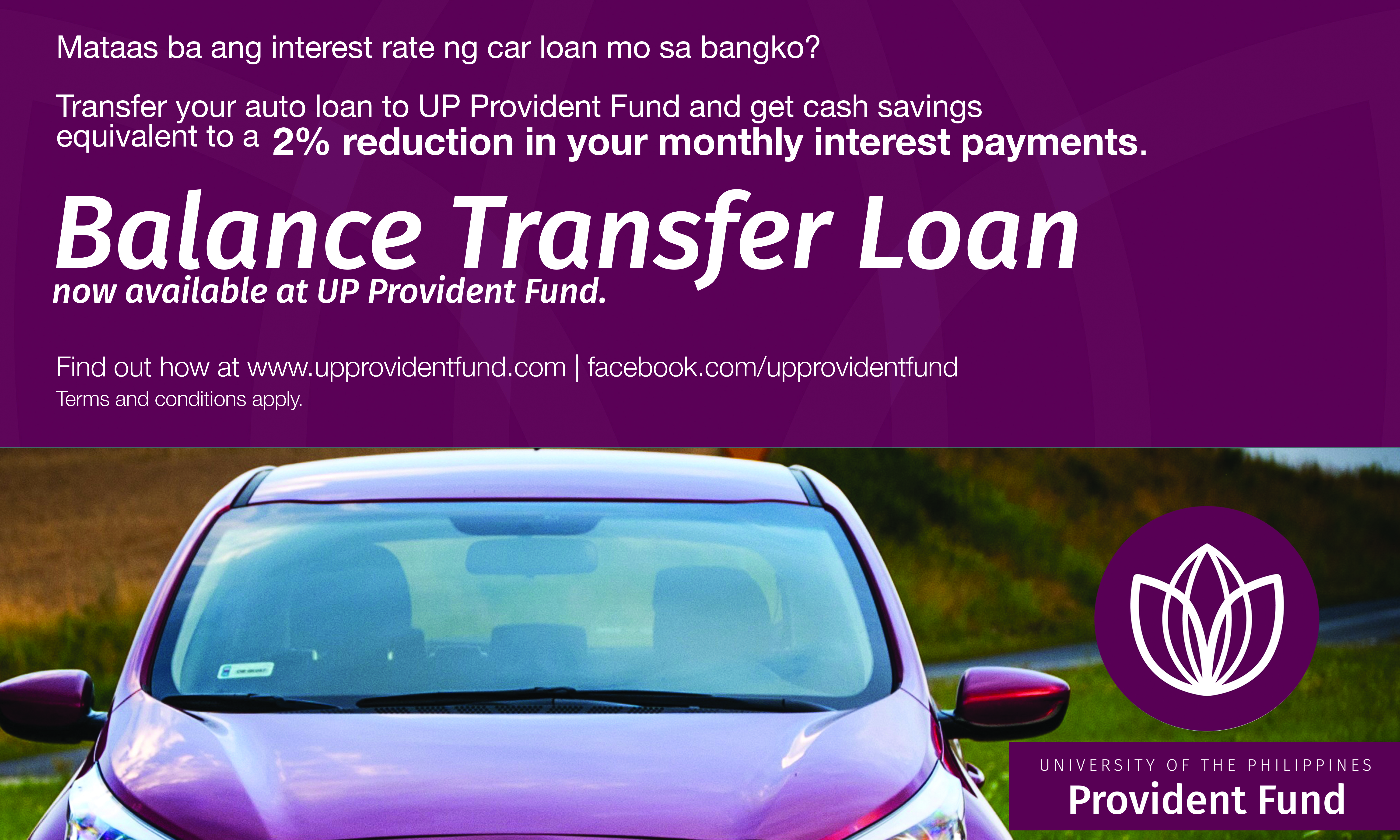 Can I borrow an amount that will only cover a portion of my principal balance?
Yes. You may borrow any amount as long as it is within the limits set by UP Provident Fund, that is, your total loan amount cannot exceed your Member's Equity and it will be dependent on your total years of service in UP.
How will I pay for my BTL monthly amortization?
The monthly amortization will be automatically deducted from your UP salary every month.
What are the requirements to avail of BTL?
Please submit the following documents when applying for a BTL:
Duly accomplished BTL Loan Information Slip
Two (2) months most recent UP payslip
Original copy of bank certification or official statement from the bank or financial institution issued in the last one (1) month containing latest loan details, specifically stating, among others:
(i) Interest Rate of the loan;
(ii) Remaining loan or principal balance;
(iii) Loan maturity date or date of final amortization payment; and
(iv) Repricing period, if applicable
For more detailed information about this loan product, please download our Balance Transfer Loan (BTL) Frequently Asked Questions guide.