UPPF's Data Privacy Statement
The University of the Philippines Provident Fund (UPPF) upholds the Data Privacy Act of 2012, its Implementing Rules and Regulations, relevant issuances of the National Privacy Commission, and other Government Regulatory Bodies.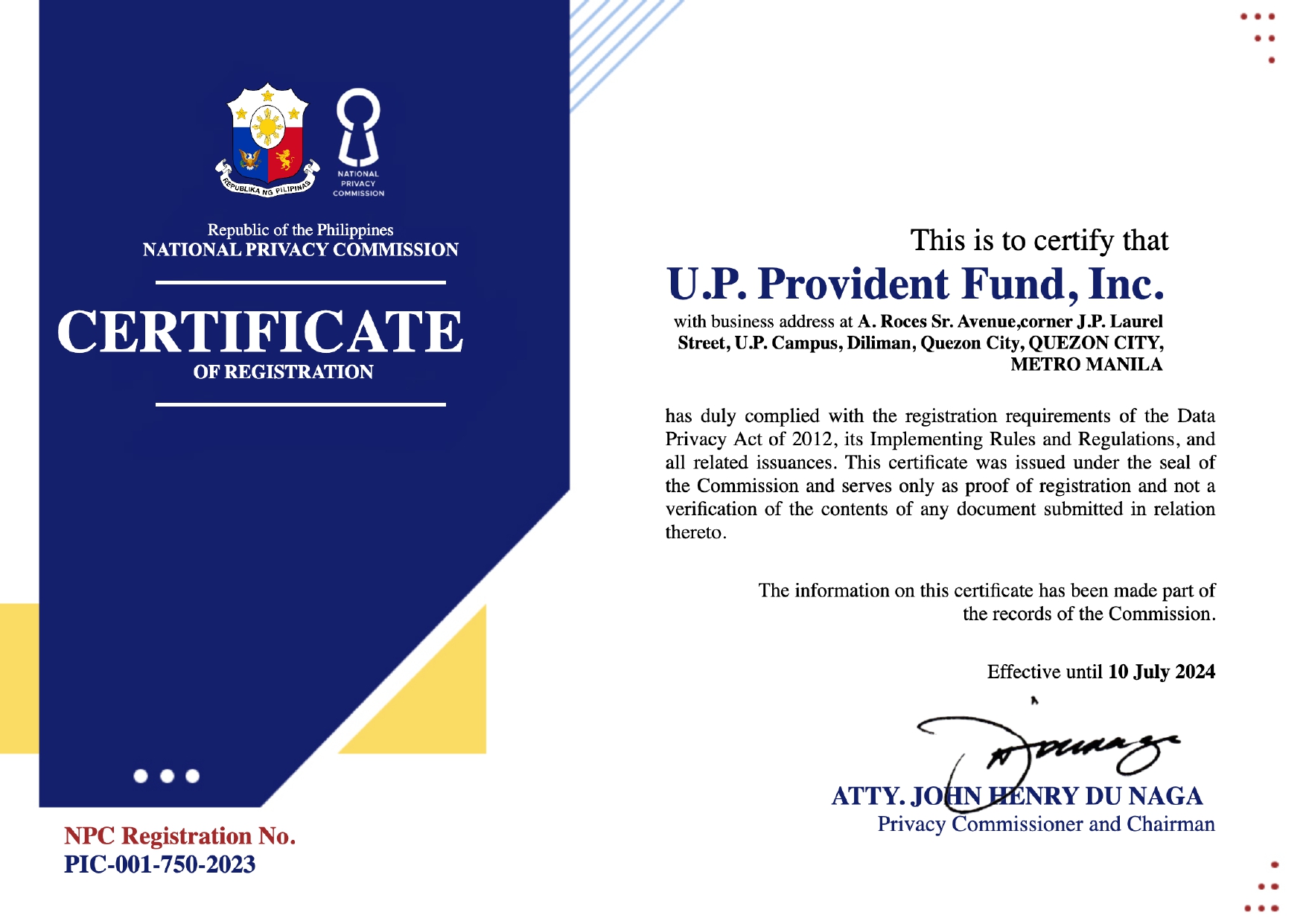 In addition, UPPF declares its commitment to the data privacy of its members, stakeholders, and employees/officers from whom it processes personal information and sensitive personal information (hereinafter collectively referred to as "personal data") in the pursuit of its legitimate transactions and services.

The processing of personal data shall be restricted only insofar as necessary, and the same shall adhere to the tenets of legitimacy and transparency. Thus, UPPF has established strict measures to ensure the confidentiality of personal data under its control and custody.

By continuing to use our website, you are giving your free, prior, and informed consent. Rest assured that UPPF will protect and honor your data privacy rights.
What are your data privacy rights?
Right to be informed about the purpose of the processing;

Right to object to the processing;

Right to access his information;

Right to rectification;

Right to erasure and blocking;

Right to data portability;

Right to damages; 

Right to file a complaint;

Such other rights appurtenant thereto.
By using our website, you agree to:
∙ Allow UPPF and its authorized representatives to use, process and share personal information and sensitive personal information needed in the processing of your membership, application, administration of your account, and for such other valid purposes.
∙ Allow UPPF to use your Personal Data to provide services to you or for other reasonable purposes related to the upgrading of our systems and business processes, which may include data analytics and other automated processing; and
∙ Allow UPPF to use your contact details, demographic information and account details, to contact you to provide promotional information regarding our products and services, for purposes of informing you of the status of your account and to occasionally conduct surveys and studies through phone, ordinary mail, email, SMS or other communication facility.
What kind of personal information/data do we collect? 
Of importance to our services is the collection of your personal information/data, such as but not limited to the following:
Personal information e.g., full name, mailing and e-mail addresses, contact numbers, place of work, gender, location/address, birthdate, birthplace, citizenship, payroll and benefits information. 

Sensitive information, e.g., race, ethnic origin, marital status, age, color, and religious, philosophical or political affiliations; individual's health, education, genetic or sexual life of a person, or to any proceeding for any offense committed or alleged to have been committed by such person, the disposal of such proceedings, or the sentence of any court in such proceedings; social security numbers, previous or current health records, licenses or its denials, suspension or revocation, and tax returns; government issued identification card/document with photograph which includes, but not limited to identity cards, passport, social security number, TIN, driver's license, COMELEC, PRC, UMID, company ID, proof of billing, latest pay slip, financial statement, certificate of registration, DTI registration, business permit, Mayor's permit, credit card information, individual health and medical records, school and employment service. 
When you provide information other than yours, you certify that you obtained the other person's consent to disclose and process that information. You also certify that all personal information/data you submit is accurate, complete and up-to-date.
How does UPPF preserve and protect your personal information/data?
UPPF preserves your personal data: 
To the extent agreed upon by the parties to a policy and/or contract, if any. 

To the extent necessary in keeping track of your records and servicing your account and contract. 
Moreover, to maintain the integrity and confidentiality of your personal information/data, we have implemented measures to secure and protect it from theft, loss, penetration or breach. We have put in place organizational, physical and technical security measures necessary to protect your personal information, namely: 
Use of secured servers, firewalls, encryptions and other security tools. 

Limited access to personal information to duly authorized processors or personnel. 3. Maintenance of a secured server operating environment by performing regular security and server updates.
How do we use and share your personal information/data? 
UPPF uses the personal data you submit to us, fairly and lawfully, only to: 
Arrange or provide the products and services we offer. 

Communicate our latest products, services, promos and events that will enhance your membership experience.

Respond immediately to your needs, requests, queries and complaints.

Comply with the law and all legal orders and processes. 

Perform the necessary processes in conducting due diligence and documentation. 

Process your application for employment. 

Any other purpose relating to any of the above.
UPPF may share your personal information/data only to the extent that is reasonable and necessary, to:
Its employees and officers handling your account and requests. 

Its subsidiary/ies, affiliates, partners, joint venture & other related third parties e.g. collection agents, collecting banks and third parties to securitization. 

Banks, Insurers and Professional advisers and providers performing due diligence checks. 

Any third-party service providers performing financial, administrative, technical and other ancillary services. 

Government institutions and other competent authorities which by law, rules or regulations require us to disclose. 

Person or entity that we contractually entered with, that ensures the confidentiality standard we implement and adhere to the DPA. 

Any person that falls within matters of public concern, in order to carry out functions of public authority only to the extent of collection and further processing consistent with a constitutionally or statutorily mandated function pertaining to law enforcement, taxation and other regulatory functions.
Thus, as a rule, UPPF is not allowed to share your personal information/data to a third party. However, by giving your consent, you authorize UPPF to disclose your personal information/data to the aforementioned individuals and entities that is necessary for the proper execution of processes related to the declared purposes in this Consent Form and in UPPF's Privacy Policy and may not use it for any other purpose.
Where and how long do we store your personal data? 
Your personal data will be stored physically in secured filing rooms in UPPF's offices or archived in a third-party storage facility located in the Philippines. UPPF will also keep digital copies.
The duration shall be compliant with laws and regulation.
Disposal of Records
The process and time for lawful disposal shall be compliant with Circulars/Rulings of National Privacy Commission, and shall be within the framework of principles of Data Privacy Act.